4th Preston Computer Programmers Meetup 12th July 2016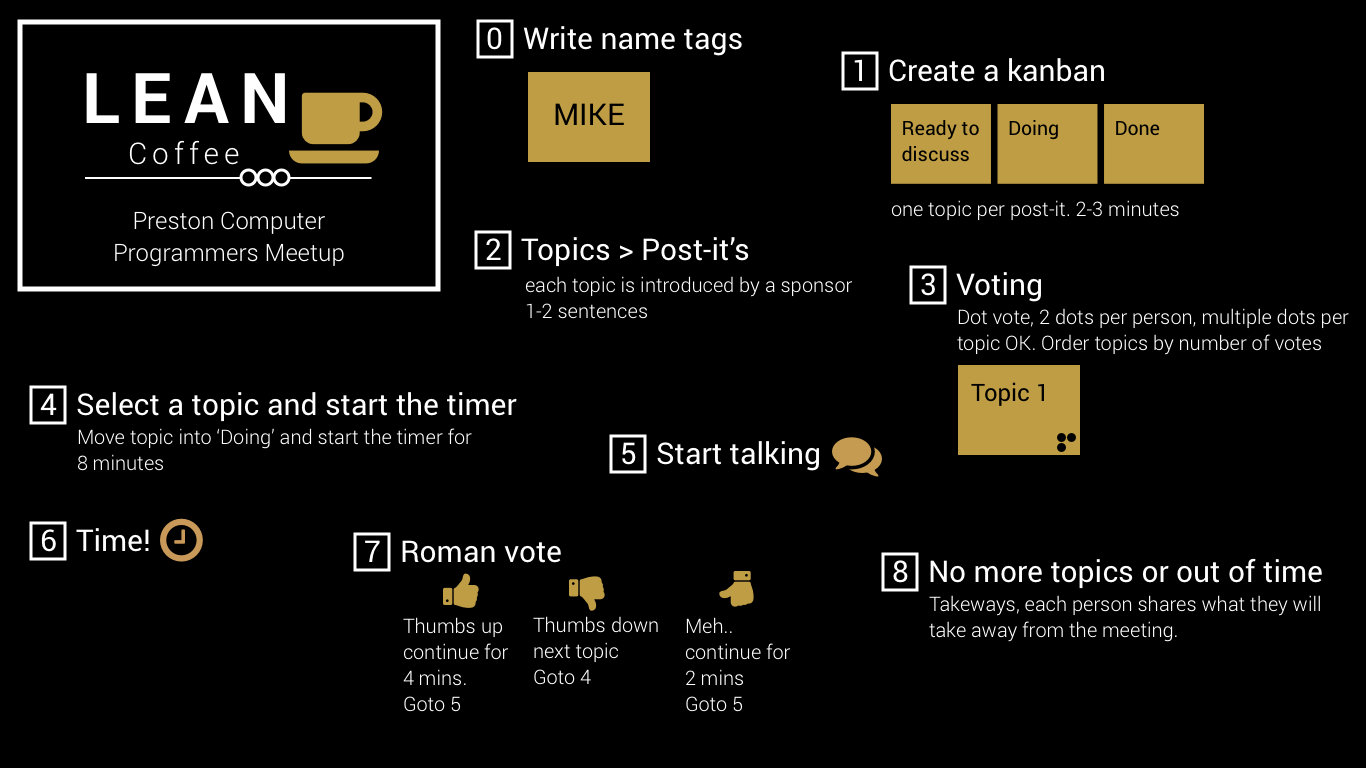 We celebrated our 6 month anniversary last night with 9 programmers in attendance.
The format for the meetup was lean coffee; where we all came up with some topics to discuss, voted on them and then talked through them over coffee and biscuits.
Venue
Cotton Court Business Centre, Church Street, Preston, PR1 3BY, Preston (map)
Who was there?
First timers
Stephen
Imran
Graham Templeton
Nick
Old hands
Mike Kelly (4 meetups)
Dan Kelly (4 meetups)
Simon Nagaitis (4 meetups)
Sean Cleaver (2 meetups)
Norbertas Petreikis (2 meetups)
What did we discuss
Mob Programming
Simon has read about Mob programming and was interested in seeing if any of us had tried it, and/or what our thoughts on it were
like pair programming but for larger groups
teams of 5-12
could work for solving requirements issues
brainstorming with code
Coding Kata
I (Mike) was interested in other developers techniques for improving and retaining knowledge of programming languages. In martial arts they have Kata, a set of moves that are practised to perfection to re-enforce techniques and to commit them to muscle memory. Is there something similar for programmers?
TDD Usage in the real world
Nick was interested in our experiences using TDD commercially
Continuous Integration, automating all the things
Test coverage
Refactoring old code base
Who should be writing tests > BDD, Specflow
Being asked in interview then never using on the job
First thing to get axed when time is short, false economy?
Machine Learning any practical applications?
Dan is learning it at the moment via Coursera and University of Washington
All just statistics
Big Data
Amazon reviews. sentiment analysers
.Net Core, ASP.net 5/6 discuss migrating projects
Sean is rewriting an old web-forms app with .Net core
Cross Platform
seems to just work
Developed in VS2015
DevOps with Docker is anyone using it
Graham is using Docker for a new product he's developing to make deployments easier
Eases deployments
Stephen is using for development and quickly spinning up dev environments on Macbook Pro, but not using in production
Concerns over database changes, Docker scripts the answer
Hybrid Mobile Web Apps
I (Mike) was interested in peoples views on Mobile apps build with web tech vs native applications and what issues, if any people have faced with both approaches.
Native may be better for performance
If not a polished experience don't bother
Phonegap app slow
Android UI easier than iOS
Just ship it, users don't care so long as it works
Brexit - Good or Bad for programmers
Simon was interested on how we all saw Brexit with regards to how we get work in the future
Could create opportunities for contractors as per 2008 with freeze on perm hiring
Could limit opportunities as finance puts investment on hold
If London stops being a startup hub will the opportunities move to EU, Germany etc
Limit opportunity for contracts in EU etc
Could it help re-balance the economy and move focus away from London to places like Manchester
Basically a big question no one knows the answer to.
Take homes
Format is good, gets everyone involved lots of information shared
More new faces
Move time to 7pm for next one to make it easier for people to attend
Arrange a more social component either for after lean coffee or on another night so people can meet and chat
Could look at doing a Mob programming session at a meetup as an experiment, possibly with a coding kata
Link to the Trello board with the cards on, if you want to add any details or links please feel free.
Summary
Another good meetup with 4 new faces, good variety of topics discussed and a lot of further reading to do.
All future meetups will be hash tagged on twitter with #prestonprogrammers if you want to keep up to date outside of Meetup.